"Ugh, why do people book something then not turn up? It's so annoying!"
You put all that effort into creating something, people promise they'll show up – then they don't. Sometimes even after they've paid for whatever it is. 
It may be an event, a seminar, a performance…
Or a product or training course you've created and sold.
You know people want it.
You know they're willing to pay for it.
But then they don't use it.
And that's bad, because if they don't use it, they won't see the value you can provide. Which means they're very unlikely to buy from you again.
There's a very simple way to fix this, and I'm going to show you how today – using an example of a great email I received last week.
Tomorrow, Joe and I are going to see a dance performance at the Birmingham Hippodrome. I've had tickets for weeks, then last week the Hippodrome emailed me about the show. The email is in three parts and it's excellent.
Take a look at these three screenshots and you'll see just how you can help people show up and use your stuff after they've bought it from you…
In part 1, they start with a reminder to actually bring our tickets and tell us how long the show is.
Then they tell me how to get there. They've included the latest info about roadworks and what might cause us hassle, and suggested the best place to park – and how to save money on parking.
There are buttons taking us to webpages where we can look at the seating plan and see a map.
In part 2, they tell us about the little extras we're getting: two special short performances from young dancers at local colleges, and a free post-show talk if we want to stay and find out more about how they created the show.
And in part 3, they do a little upselling. Would we like a cocktail in one of their theatre bars before the show? Or perhaps coffee and a snack? And they encourage us to reserve ice creams and drinks.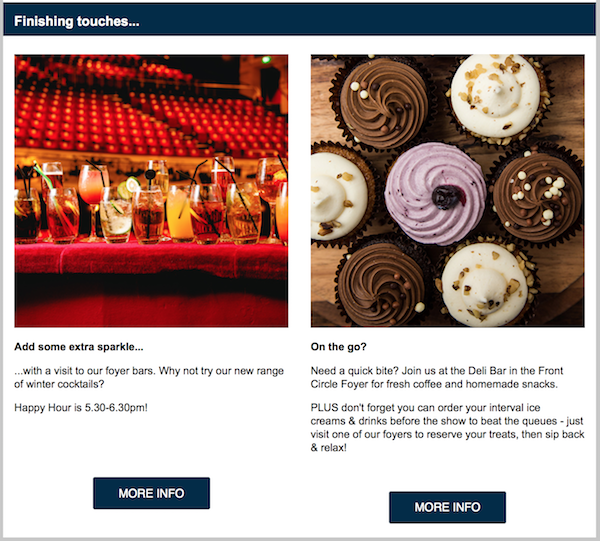 This is a little masterclass in how to get people to consume what they've bought.
Tell them what to expect, what to do, and how to do it.
Remind them of the little extra touches you put together for them.
And do a little upselling, because the best time to sell more is when people are happy with what they've just bought.
Not sure how to get people buying more from you, then actually using it – and buying even more?
I can help. When you join the Superheroes, one of your Superhero perks is unlimited critiques of your marketing materials.
You'll find these are incredibly valuable – and could make the difference between a campaign's success or failure.
Here's what one of my Superheroes said last week:
"Thanks again. Ta very muchly for your critique of my revised marketing ebook. It was very, very useful, particularly your comment about confidence/lack of confidence in my writing."
Problems in marketing aren't always obvious, especially to the business owner. But my book will help you find them, and show you exactly how to make them better.
Buy a copy here:
http://www.vickyfraser.com/buy-my-book
About the Author

Vicky Fraser
Please do share any articles from this site in part or in full — as long as you leave all links intact, give credit to the author, and include a link to this website and the following bio. Vicky is a gin-quaffing, pole-dancing, trapeze-swinging copywriter who writes about the perils and joys of writing, velociraptor training, and running a small business. She writes this stuff on her websites vickyfraser.com and cookiesforbreakfast.co.uk. She's the author of one book (with two more in utero) and teaches small business owners how to write copy that sells, and how to be more fecking interesting. You can follow her on Facebook, Instagram, Twitter, Pinterest, and LinkedIn.